Sponsored Skaters
Every year, Ermine Skate sponsors a small group of skaters who contribute to the sport and culture of Nordic skating.
Winter 2023-2024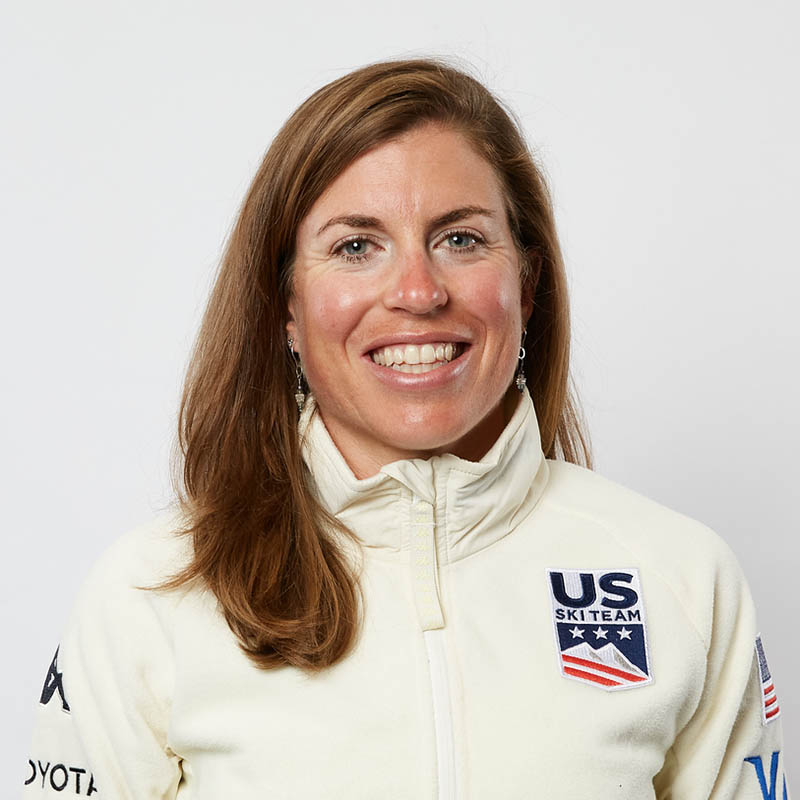 Rosie Brennan
Rosie Brennan came to Alaska after graduating from Dartmouth College in 2011, and a chance to chase her ski dreams has turned into a long career and a new home. Rosie trains with Alaska Pacific University Nordic Ski Center and is a member of the U.S. Ski Team. She made her first World Championship team in 2015 and has since raced in 2 Olympics and 5 World Championships. Rosie is excited to use skates as a way to be in the mountains and train during those special times when temps are low and snow is sparse. Alaska is a magical place and wild ice is just one of those special things that must be experienced!
Andrea Burtzel
Andrea Burtzel is based out of Chugiak, Alaska and brings a wealth of mountain running experience to the table. Her life revolves around a diverse array of outdoor pursuits, from rock and ice climbing to Nordic skiing and biking. When she's not playing outside, she's working toward a degree in Journalism and Public Communications at UAA. This winter, she's excited for the opportunity to hone her skills in Nordic skating and adventures in the backcountry in the quest for wild ice. In Andrea's words, "I am deeply passionate about moving my body outdoors-it's where I find peace, and I love the sense of community that naturally emerges through these diverse sports."
Winter 2022-2023
Hailey Swirbul
Hailey Swirbul came to Alaska six years ago to Nordic ski race for UAA and now calls Alaska home. Currently, Hailey trains with the APU Nordic Ski Center and races internationally on the World Cup with the US Ski Team. Hailey attended her first Olympic Games in 2022 in Bejing. She has 15 years of experience skating on snow and a background of playing hockey with her family in Colorado, and is excited to further her joy of exploring Alaska by tackling lots of wild ice on Nordic skates this year. Hailey thinks Alaska's trails, lakes and rivers are the best places to train to be an Olympian, especially as a person who loves skating of all types!
Elias Oswald
Elias is a Nordic Combined athlete raised in Anchorage, Alaska. Nordic skating has been a family endeavor for Elias for as long as he can remember, and he joined the Alaska Speed Skating Club when he was nine. Elias says, "The sheer amount of distance you can cover so quickly on Nordic skates, and the views you get to take in along the way are completely unparalleled." Today, Elias is a member of the US National Development Team for Nordic Combined, and loves to get onto wild ice for "the world's greatest distance training."
Dana Kerr
Dana Kerr is a born and raised Alaskan who played ice hockey through the collegiate level. Since retiring from hockey, she has discovered Nordic skating and has enjoyed exploring wild ice throughout Southcentral Alaska and Kodiak Island. She enjoys combining her love of skating with outdoors landscapes. When not on the ice, she enjoys hiking, skiing, biking, packrafting, baking and photography.
Winter 2021-2022
Josephine "Jojo" Qimagar Leonard
Jojo is a speed and wild-ice skater born in Bethel, Alaska and now living in Anchorage. She is of Alaska Native (Yup'ik Cup'iq) Italian and Polish descent and has been skating since she could walk. As a member of both the Alaska Speed Skating Club and the Anchorage Skate Club she is honing her competitive speedskating short and long-track skills under the tutelage of Coaches John Monroe and Peter Haeussler. Jojo says, "What excites me the most about skating is that it gets you outside and is great exercise. I also like the competitiveness on the track."
Kristin Drenzek
Kristin is based in Palmer, Alaska, where she spends her time playing outdoors with her three children and writing for "Tales of a Mountain Mama." Kristin's article "Wild Ice Play with Kids" is an exceptional resource for those seeking guidance and tips for recreating on wild ice with children. In Kristin's words, "I have been spending years out on wild ice with my children, and through them have recently discovered a love for skating. Finding Nordic skating just last year has changed the way I get to explore one of my favorite ephemeral wonders."
Ryan Kleinert
Ryan is a wildlife biologist based out of southern coastal Maine. Ryan has done an excellent job putting together long trips on New England lakes and sharing them with the growing New England Nordic skating community. In Ryan's words, "I am deeply passionate about wildness, wilderness, and adventuring. I am in love with frozen enchanted landscapes and feel most alive while on Nordic skates chasing ethereal sunsets and unique ice formations."
Bronté Smith
Bronté is an Outdoor Studies student at Alaska Pacific University (APU) with concentrations in Snow Science and Public Land Management. Bronté says, "I was drawn to study in Alaska to get back to my roots, and to seek out adventure in winter landscapes through backcountry skiing, ice climbing, and ice skating. Getting joy from a place you wouldn't normally find yourself, like the middle of a frozen lake, is always magical."
Join our email list
Sign up to receive updates on our latest products, new videos and resources, and more.